According to the astrology, Brihaspati yantra is devote to Jupiter, and it is consider as a largest planet out of the Nine. It is the most powerful and generous planet also. Dev guru Brihaspati is consider to be the best planet to guide philosophical and spiritual knowledge. Thursday is dedicate to Dev guru Brihaspati and by his grace, wealth, prosperity, sons and education are attain, as well as yellow color and yellow things are very dear to him. Moreover, Dev guru Brihaspati is consider the hero of the nine planets as well as the god of wisdom and eloquence. The inauspicious effects of the planet Jupiter bad effects, can be reduce by using Yantra.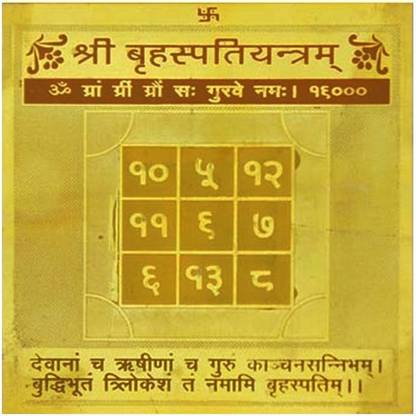 Brihaspati Yantra Benefits
This yantra in your home or at a business place is very beneficial in reducing the negative effects of the planet Jupiter.
This yantra also gives you profit in wealth and property.
By installing this yantra in your house, knowledge also increases.
This yantra also removes the obstacles coming in your life.
With the help of this yantra, you get children, wealth, power, position and authority.
Beej Mantra of Vishnu Ji
Chanting any Beej Mantras of Narayan ji out of these, chanting 108 times is very fruitful. The first mantra is considere to be the root mantra of Brihaspati Dev or Vishnu ji.
First, Om Brihaspati Namah.
Second, Om kleem brihasptay namah.
Third, Om Gram Greem Graun Gurve Namah.
Om Sri Brihaspati Namah.
Om Gurve Namah.
Mantras of Brihaspati Shanti path
If there is a Dosha of Brihaspati in your horoscope, so it can be painful for you. This can lead to family, mental, financial and physical problems. In such a situation, chant these mantras and recite peace.
Benefits of Brihaspati Yantra locket
Astroeshop brihaspati yantra is made up of pure copper in the form of a locket, which pleased your respective planet and by the grace, the default of the planet will be pacify on you and the stall progress in life. Children can wear it around the neck, as well as you can wear this, when your planet is weak, diseases and other calamities surround the seeker.
Brihaspati Aarti
Om Jai Brihaspati Deva, Jai Brihaspati Deva || Chhin chhin Bhog Lagaoo, kadli fal Mewa || Om Jai Brihaspati Deva ||
Tum Puran Parmatama, tum Antaryami | Jagatpita Jagdeeshvar tum sabke Swami || Om Jai Brihaspati Deva ||
Charnamrit nij nirmal, sab patak harta | Sakal Manorath Dayak, kripa karo Bharta || Om Jai Brihaspati Deva ||
Tan, Mann, Dhan Arpan kar jo jann sharan pade | Prabhu prakat tab hokar, Aakar Dwar Khade | Om Jai Brihaspati Deva ||
Deen Dayal DayaNiddhi, Bhaktan Hitkari | Paap Dosh sab Harta, Bhay Bandhan Haari || Om Jai Brihaspati Deva ||
Sakal Manorath Dayak, sab Sanshay taro | Vishay Vikar Mitao Santan Sukhkari || Om Jai Brihaspati Deva ||
Jo Koi Aarti teri Prem Sahit Gave | Jeshtanand Band so so Nischay phal Pave ||
Om Jai Brihaspati Deva ||
Astroeshop Brihaspati yantra is energize by the world's best astrologer Acharya Indu Prakash ji. If you want any other query you can contact us or book an appointment with Acharya Ji.