Why is Tulsi Patra prohibited in Ganpati Puja?
Worship of God and Tulsi does not get a place, it seems impossible. Everyone knows that without Tulsi Hari does not accept Prasad. This is the reason that in every Hindu house of worship, Tulsi always finds a place in a water pot and is considered to be revered. But the strange fact is that this supremely revered Tulsi Devi is kept away from the worship of Devadhidev Ganapati. Offering Tulsi leaves is prohibited in the worship of Ganapati. After all, what is the reason that Tulsi has not got respect and place in Ganpati Puja?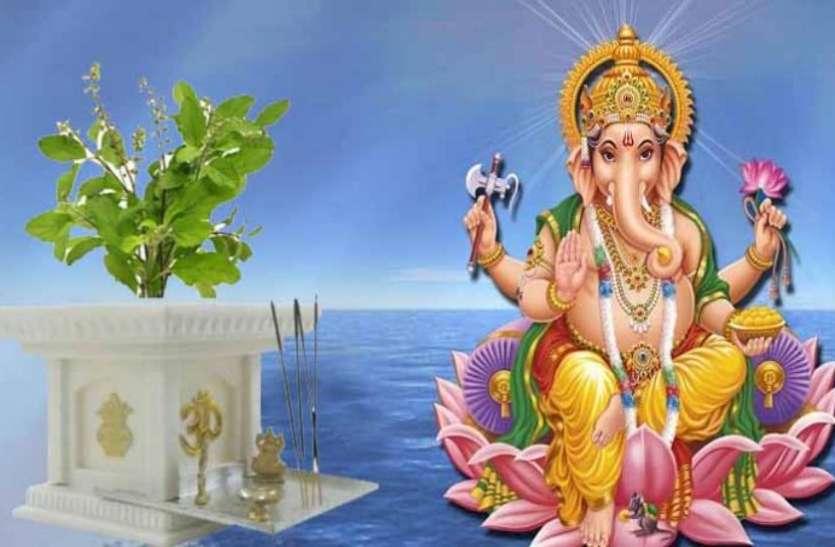 Today let's hear a beautiful incident in this context
Lord Ganpati is considered an exclusive devotee of Shri Hari. In his youth, Ganpati used to be absorbed in the worship of Shri Vishnu the whole time. He was practicing celibacy at that time and was leading a life of austerity and devotion. One such day early in the morning, Ganpati ji was meditating on the banks of the Ganges and meditating on Shri Hari. At that time the form of Ganesha was looking very attractive. His face was dripping heavily. At such a time, Tulsi, the daughter of Dharmatmaj, came to immerse the worship material on the banks of the Ganges. She was also an ardent devotee of Lord Vishnu and used to do every work of life as a sign of Vishnu.
Ganesh ji turned down Tulsi's proposal. In that beautiful morning, when Tulsi ji found Ganpati ji meditating on Lord Vishnu, she was mesmerized by his attractive form. He realized that it is probably Shri Vishnu ji who is indicating to him and introducing him to his future groom. Believing this, Tulsi ji reached Ganesh ji and proposed marriage to him. Ganesh ji turned down his offer saying that he just wanted to concentrate on getting the blessings of Vishnu ji. The use of Tulsi became prohibited in the worship of Ganapati, the supreme beauty Tulsi Devi considered it an insult and cursed Ganesh ji that today you are saying that you do not wish to marry. One day your marriage will happen very rarely, without your will, unintentionally, suddenly. Ganesh ji also turned back and cursed that if you did wickedness for no reason, then now you will be married to a demon. Later, by the grace of Shri Hari, their differences were resolved and both of them broke their curse, but since then the use of Tulsi became prohibited in the worship of Ganapati.