Thumb Palmistry: Know with your thumb, how will be your luck
There are many methods of astrology, through which the future lying in the womb of time can be estimated to a great extent. You must have often heard or seen that some astrologers tell the future by determining the name of your parents and your horoscope by taking thumb impression.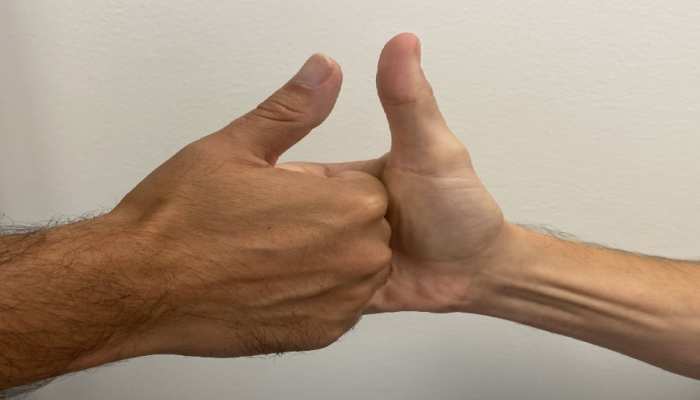 What is this illusion or truth, let's investigate it
There is a book named Bhargava Nadi… There is a text named Bhargava Nadi, which is found in South India written on palm leaves in Brahma script of ancient Tamil. Most of the Nadi astrologers of South India claim to have Bharvava Nadika with them. The meaning of the word Bhargava is Venus, hence it is known as Shukra Nadi. Two manuscripts of Shukra Nadi Granth are found in Government Oriental Manuskapart Madras. About 40 years ago a small book called Ek Bhargava Nadi was published in the Government Oriental Manuskrapitat Madras.
Thumb Impression In this book only the fruits of Vishontari dashas have been described. Astrologers who have Shukra Nadi or Bhargava Nadi Granth. He tells the future fruit of his life from the print of the thumb or palm of the person. The natives take the print of palms to them to know their future, then they are given 10-15 days' time. Astrologers determine the ascendant houses and planets through the print. Again in the Nadi Granth 8-10 birth charts containing the planets of that ascendant and the houses of the houses are extracted.
These texts are described between 15-20 verses, after which the person is called and narrates the fruit of two letters. In which some events are received in the name of parents, wife and the horoscope is considered to be of that person. After that, the astrologer considers the result of that horoscope to be the soot of the Nadi Granth. Or hears. In this book the kundli are made and their results are described in between 15-20 verses, in which there is no need for any Vishottari etc. Only events through the years are mentioned. It also describes previous births. For the prevention of malefic planets, specific types of chanting, worship and charity are mentioned. In this way, though this book is miraculous, it is not accessible to all. If it can be published in any way, then it will be a matter of happiness for all.