Saturn is the way, circumstances will change, there will be reduction in inauspicious results.
Shani Dev, who is called Nyayadhipati, is transiting in Capricorn and Shatabhisha Nakshatra on Tuesday, 29 September, 10.44 am. Saturn had retrograded on Monday, May. During his curvature period of these 142 days, Shani created turmoil in the entire creation. While the whole world is still battling due to the Corona epidemic, India is facing a war-like situation with its neighboring country China. During this time people had to face big financial troubles, many people's businesses came to a standstill and many people lost their jobs. Now when Saturn is again going to move in its own zodiac, then in such a situation, inauspicious effects will be reduced, people will get relief from diseases, financial troubles will come down and business will also start gaining momentum.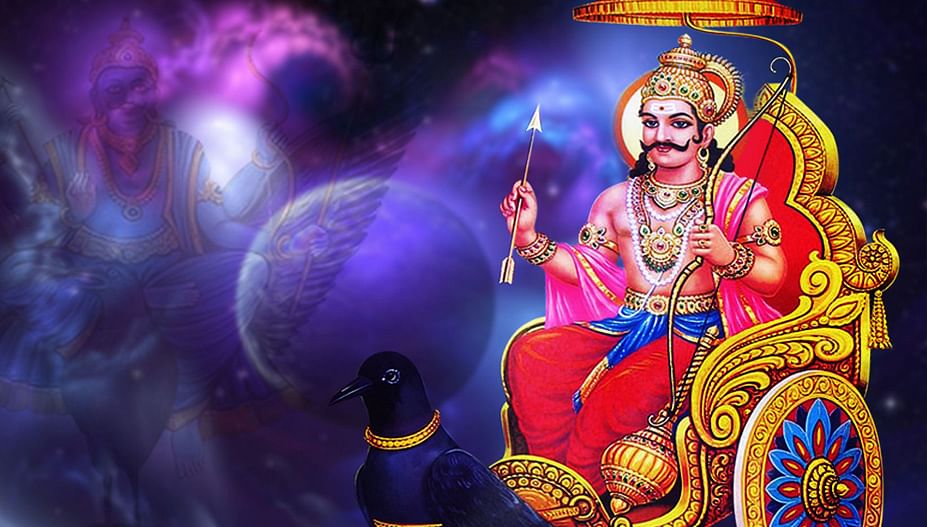 Changes can be both auspicious and inauspicious. At present, the last dhaiya of Saturn's half-century is going on in Sagittarius. The second phase of Sade Sati is going on on Capricorn and the first phase of Sade Sati is going on in Aquarius. Apart from this, Laghu Kalyani Dhaiya is running on Libra and Gemini. Saturn's transit, Sade Sati and Mahadasha have a very deep impact on our lives. Due to its effect, not only human beings but also the nature have big changes. These changes can be both good and bad. Its result is decided by the movement and position of Saturn in the zodiac and horoscope. Some new problems may emerge, till January , Saturn will remain in Uttarashada Nakshatra, which is the constellation of the Sun, Sun and Saturn are enemies. Some new problems may emerge during this period. stay alert. From January 22, he will go to Shravan Nakshatra, which is the constellation of the Moon. Saturn and Moon are also enemies. Rahu and Ketu are also changing zodiac from 23rd September. From 23 itself, there will be a relationship of 3 and 11 of Shani-Ketu, that is, the relationship of might and profit. At the same time, from November 20, Guru and Shani will come together. Rahu will have a vision on Saturn from 23rd September.
'There will be less ups and downs of tension' Aries: Saturn will be on the way in the tenth house of Aries. The economic crisis that has persisted for the last 142 days will go away to a great extent. The tension and ups and downs that remain in the job will be less. There is going to be freedom from diseases. The biggest thing is that the crisis of your livelihood will be removed. Conditions will start getting favorable. Students will get progress in the field of education. Marriage will happen. The tension created in family life will be less than your understanding to a great extent. The decisions taken by you in the past are going to give auspicious results. However, it may take two to two and a half months for you to get complete relief.
Remedy: Chant the mantra Om Shanishcharaya Namah. Feed sugar to ants.
Taurus: Saturn is going to be in the ninth house of Taurus. This is luck. If Saturn is on the way here, you will get the support of luck, but the pace will be slow. The results of good deeds and donations done in the past are going to be visible now. Maintain good relations with family and friends. Bring sweetness to your speech. Your love life will also be strong. Your relationship will be good. You are going to get importance in the family. There will be benefits in business and job. The mind will be happy to get the work of your choice. Whatever preparation you have made for the future, make it stronger. Lucky yoga will be created. Economic barriers will end. Business done in partnership will start earning profits. Family support will be good. Changes in business related to property, automobiles are going to be beneficial. Remedy: Donate that oil after seeing your shadow in mustard oil on Saturday. Saturn will get support.
Gemini: Saturn is going to be in the eighth house of the people of Gemini zodiac. The lord of this zodiac is a friend of Saturn, so there will be relief in some cases, but in some cases problems may have to be faced. You are advised to do any work, first do a good research work for it. Starting any work without thinking or without planning for the future can give harm. Shani's dhaiya is going on in your zodiac. So focus on work. Do not spend time and money on unnecessary tasks. If you work smart and hard then you will get fame. Married people will have to think practically to settle their matters. Money-related problems may arise during this period, so increase your savings. Keep restraint on your speech. Otherwise there may be conflict in the family. If you want to get the love of your life partner, then you have to take your family members along with you.
Remedy: Recite Shani Chalisa for 21 days.
Cancer: Saturn is moving in the seventh house of Cancer zodiac. From here there will be a possibility of improvement in your relationships with family, personal, friends, relatives, neighbors. Although your arguments with your business partner may increase, but if you make efforts to make the circumstances favorable to you, it will be beneficial. To convert the love relationship into marriage, the support of the family will have to be taken. Young people have to focus on their career. If you want to do any business then you can get good benefits in work related to Saturn. Your luck will be strong during this time. Time is right to change jobs. The tendency to postpone the tasks will have to be abandoned. New relationships will be formed. You may have to travel somewhere suddenly. New sources of income will be available, but definitely take advantage of the experience of family members in this.
Remedy: Recite Shani Stotra every Saturday
Slowly the situation is moving towards improvement.
Virgo: For you, Saturn will be transiting in the fifth house. There is a sense of child and education here. The time is now favorable in terms of education. Due to retrograde Saturn, there was a bad effect on the field of education. From children to college and professional exams were affected during this period, but now gradually the situation is moving towards improvement. In family life, you have to understand the things by walking in the mind of your children. Treat them as friends. Any sort of stressful talk can spoil your relationship with them. Your relationship with love partner will improve. You are going to get benefits from old investments during this time. If you want to start a new business, then work related to Saturn can give you benefits. Remedy: Recite Dasharathkrit Shani Stotra regularly.
Libra: Saturn's Laghu Kalyani Dhaiya is already running on your zodiac and Saturn is going to move in your fourth house. This is a place of happiness. Therefore it is possible that your happiness will increase. You are going to get relief in the financial, family and social troubles you have to face since the time of Saturn's retrograde, but keep in mind, everything is not going to be right right now, you have to be patient. Will happen. Caution and caution have to be taken. Whatever efforts you have made so far to increase your business and did not get any benefit in them, now from September 29, you are going to get its auspicious results, but you will have to bring some changes in the work. If you change your work after doing research according to the market, then you will get profit. Job change is possible. Remedy: Do Telabhishek of Shani Dev on Saturday. Mix flour and sugar for ants.
Scorpio: For you, Saturn is going to be in the third place. Mighty will remain a path in the house of brother and sister. Your confidence will remain strong during this time. Relations with siblings will be good. There can be conflict in love relations, to avoid this, avoid doubting your partner in any way. Pay attention to their needs over the family. You have to be active professionally. Laziness in work will put you in trouble. There are possibilities of change in work and job. Stay away from people who try to spoil you all the time. If you are going to take a loan to do business, then take a loan keeping in mind your limitations. Health will have to be taken special care of.
Remedy: Make salted rice and feed it to the poor on Saturday. Shani will be happy.
Sagittarius: Shani is going to be in your money house. Property issues will be resolved with the help of parents and elders of the family. You are going to get the benefit of improving relationships with family in many places. The financial crisis that has been going on since the time of Saturn's retrograde is going to end. New avenues of money arrival will open. Suddenly a huge amount of money can be received from somewhere. With the help of luck, you will be able to make impossible tasks possible, but do not bring arrogance and bitterness in your speech at all. No matter how big and rich you are, you have to always take the younger ones with you. Your rapport with your spouse will improve. Love affairs will get a name. There will be a change in job for the employed people. Stay away from the conspiracy of enemies.
Remedy: Help the poor, handicapped people. Do yoga and pranayama yourself.
Capricorn: Saturn is transiting in this zodiac and is also the lord of this zodiac. Here, due to the path of Saturn, a Raja Yoga called Shasha is being formed, which is going to be very beneficial for you. If you are engaged in work related to Shani then you will get benefit. Your contacts will increase, which will benefit you in business. There may be a slight decline in health. Stay away from unhealthy people. The doors of progress are about to open for you. A long-held wish is about to be fulfilled. Married life will be happy. There will be profit in love, a chance to improve love and business partnership. Differences and differences will come but stay away from them. Stay away from negative minded people. You will earn profit on account of your speech. New sources of income will be available. New business jobs are about to come. You will get success in the field of education. Do not consider yourself weak, recognize your potential and move forward with confidence.
Remedy: Recite Shani Stotra in the evening. serve the patients.
You will get promotion, focus on your work' Aquarius: Saturn is moving in the twelfth house for Aquarius. This cost is the cost. So you have to stop your expenses. If you spend unnecessarily, it will be difficult to save anything for the future. However, the sources of income will increase. You will get more good opportunities in your workplace. You will get a chance to make your dreams come true, but in that you will have to take the support of trusted people. Whatever business you are doing, there will be some profit in it, but changes will have to be made in the work. Disputes about ancestral property will be settled. Family atmosphere will be good. The mind will be engaged in the works of religion. There will be a vehicle accident, so be careful while driving. Time is good for students. Health will be good.
Remedy: Offer sweet milk in Triveni of Bad, Peepal and Neem on Saturday.
Pisces: For Pisces, there is going to be a path in the income place ie eleventh house. The financial crisis will be over. Despite the high expenses, you will be in a profitable position due to good income. Avoid taking loans. If you want to change, do it. Proceed with patience in your business and job, situations of profit are being created. For this you have to keep trying. Give up the habit of postponing tasks. You will get salary increase, promotion in job, focus on your work. Be careful while driving. Don't be hasty in any work. Don't let your voice be bitter. There will be tension in love relations, but stay calm. Do not get angry. Everything will be fine by itself.
Remedy: Recite Hanuman Chalisa, or Bajrang Baan, on Saturdays.