Let's know when is Lohri in 2022 and the date and time of Lohri 2022. Lohri is a symbol of festival, which brings bundle of joy and happiness. This festival is celebrate at the end of autumn month i.e January. From then onwards the days start getting longer. Originally this festival is celebrate by the Sikhs in Punjab, Haryana, but due to popularity, it is a festival celebrate not only in India but all over the world. On this day people greet each other with great joy.
Main purpose of Lohri festival
Lohri festival is associate with the Hindu calendar by the name of Vikram Sam vat and Makar Sankranti. This festival (Maghi Sangrand) is celebrate with great pomp in the Punjab region. It is customary to celebrate this festival especially at the end of autumn. Also, this festival is consider to be a financially new year for the farmers.
Customs and traditions

As we mention that Lohri is a famous festival of the state of Punjab and Haryana, but in spite of this, the scope of popularity of this festival is so big that now it is celebrate with great enthusiasm all over the country. On this occasion, the farmers express their gratitude to their God, so that their crop can be produce in more quantity.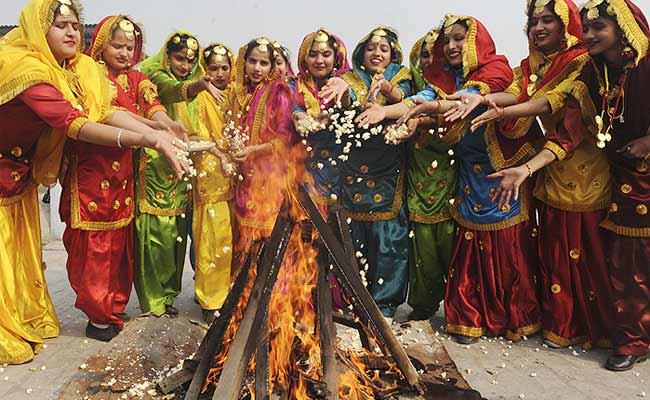 During the festival, children go from door to door singing folk songs and are given sweets and money (occasionally) by the people.
It is believe that it is not consider right to return children empty hand, so they are also give sugar, gajak, jaggery, peanuts and maize etc. On the day of Lohri.
Then people light a fire and distribute Lohri to everyone and together enjoy the festival with music etc.
The night of Lohri is enjoy by eating cultural food like kheer with sarson ka saag and maize ki roti.
There is a practice of flying kites on this day in some parts of Punjab.
Lohri Song and Its Importance

Songs have great importance in Lohri. Due to this a wave of new energy and happiness runs in the mind of the people. Apart from this, this festival is celebrate by dancing with songs. Basically these cultural folk songs describe about happy crops etc. Punjabi warrior Dulla Bhati is also remember by the song. People celebrate this festival by performing Giddha and Bhangra to the beat of the dhol around the fire.
Dulla Bhatti
For many years people associate Lohri festival with a character called Dulla Bhatti. His name is mention in many Lohri songs. It is say that during the time of Mughal king Akbar, a robber name Dulla Bhatti live in Punjab who not only rob the rich people, but also save the poor Punjabi girls who were forcefully sold in the market, hence in today's era. People call him the Robin Hood of Punjab.
How celebrated Lohri, in other part of India
Bhogi festival is a traditional festival of Andhra Pradesh, it is celebrate a day before Makar Sankranti in Andhra Pradesh. On this day people change old things. At the same time, wood, old furniture etc. are also use to light the fire. Metal objects are not combust in this. According to Rudra Gyan, people take pledge to give up all their bad addictions and habits under this action. It is also called Rudra Gita Gyan Yagya. It is consider a symbol of transformation and purification of the soul.