Know the future of people born on Monday
Man is always eager to know his future. Well, the future lives in the womb of time. No one knows one hundred percent about the future. Because the one who is born is sure to die, this one hundred percent truth, everything else is half-truth.
Let us know today what the future says of the people born on Monday
Their luck is strong, Those who were born on Monday, the Moon has a special effect on them, because on this day the Moon remains in its full power. The people born on this day are hard working, but due to lack of strong luck, they do not get the full fruits of their labor. Nevertheless, they reach high positions by working with complete sincerity towards their goals. These people always remain the subject of discussion in the society but their family life is not good. Many difficulties have to be faced but outsiders understand that their life is going on successfully.
Your mind will remain fickle Without completing any task, these people start another work. This nature becomes a hindrance in their success. Your memory power is very fast, yet you lack patience. You get upset at the slightest failure due to excessive emotionality. You will be very polite in the matter of women and your coordination will also sit more than women because your nature will match with women. Your fortune will be on the banks of the river or the sea.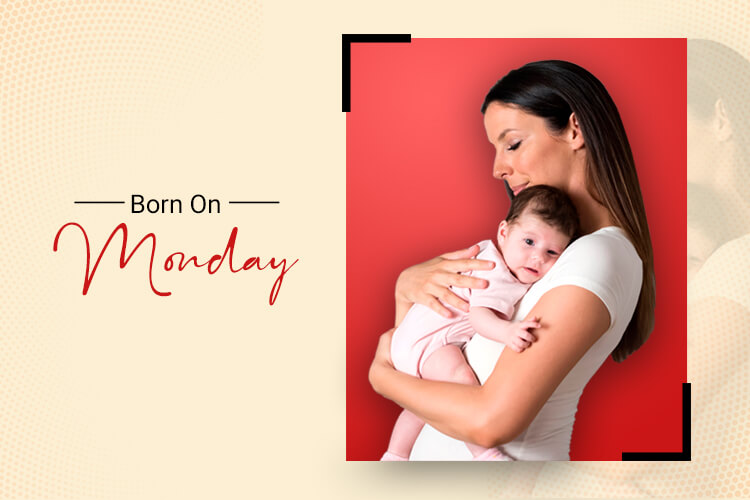 Nature of Women born on Monday
Their complexion is fair, friendly nature, benevolent, pilgrimage, lover, passionate, sensitive, sweet and beautiful women living in the world of imagination. Special attention is paid to their cleanliness. You will be beautiful and attractive, so you attract others to you quickly. You are very smart in speaking. You may have a black or red mole between your breasts. Those women who have black mole on their stomach have more children. Your married life will be said to be normal.
Health- Diseases related to stomach will trouble you. For example, gas, jaundice etc.
Auspicious day- Monday will be especially favorable for you. Thursday and Sunday will also be good for you.
Auspicious Month – From June 20 to July 27, this time will be especially auspicious for you. At this time you can start any work. Inauspicious Months- The months of January, February and December are not favorable for you.
Auspicious gems– Wear 7 ratti pearls in silver ring or Chandiramani in junior finger after purifying it on Monday.
Vrat and Mantra- You can keep fast on Monday and worship Lord Shiva. Waking up in the morning, chanting a rosary of Om Shrim Chan Chandraya Namah daily, your troubles will be removed.