Haridra Mala removes obstacles in marriage
In Hindu worship, turmeric is used as a very sacred, auspicious and important worship material. In fact, each item used in our worship has its own importance and benefits. Turmeric has been used in auspicious work since its inception and it is considered an indicator of good luck. It also gives freedom from many types of problems in life. Its importance has been accepted in astrology and tantra. Many uses of turmeric knot are found in these scriptures, through which wealth, property, happiness, splendor, marital happiness can be obtained.
It is advisable to donate yellow things, although turmeric has many uses, but here we will only talk about its miraculous effect in removing the obstacles coming in marriage work. In astrology, turmeric is related to Jupiter. Marriage happiness is attained only in the auspicious position of Jupiter and if Jupiter is inauspicious in the horoscope then marriage happiness is hindered. Therefore, fasting on Thursday, wearing yellow clothes and donating yellow things is advised on Thursday, garland made of turmeric knot is mainly used to remove doshas related to Jupiter. Let us know how and in what problems it is used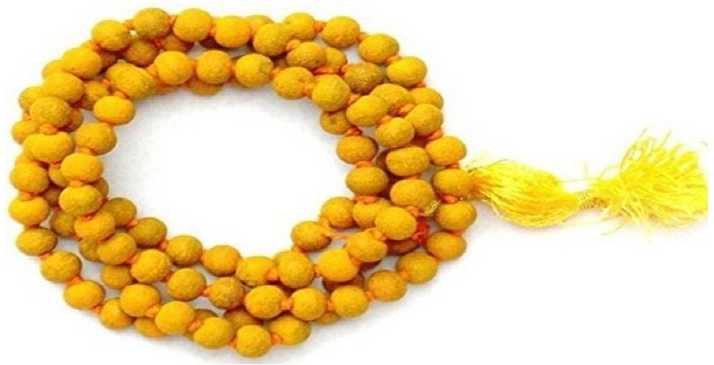 Wear Haridra Mala by worshiping Laxminarayan, the biggest and most effective use of Haridra Mala is to remove obstacles in marriage. Those young men and women who are not getting married, every time things get stuck, they should wear Haridra garland. On Thursday, worship Lord Laxminarayan and wear Haridra Mala. After this, keep worshiping on every Thursday and fast on Thursday. This brings good luck. The road to early marriage opens. Jupiter helps in strengthening the fortune. Those whose luck is weak, troubles do not leave the chase, even after working hard, they do not get any benefit, those people should wear Haridra garland to Lord Ganesha on every Wednesday coming for a year continuously. It is necessary to have 27 knots of turmeric in the garland, which represent the 27 constellations. Wearing Haridra Mala around the neck increases life and health. It increases the immunity of the body and also cures respiratory diseases. It also helps to protect against the effects of the ongoing corona virus. If the patient of jaundice wears it, then the disease gets cured soon. It forms a secure circle around the person wearing it so that disease-causing germs cannot come near.
Offer a Haridra garland on the branch of a Peepal tree; Haridra garland is used to get rid of debt and increase the inflow of money. For this, on the day of Amavasya, offer raw milk and Batasha in water to the root of Peepal tree. Offer a Haridra garland on the branch of Peepal tree and pray to Lord Laxminarayan for wealth. The problem will be solved in three months. Haridra Mala is helpful in keeping the mind calm. If your mind is not at peace. Difficulty in taking any decision. If the mind wanders, gets distracted, then wear Haridra Mala on Monday. Offering Haridra garland of 27 knots to Lord Vishnu brings wealth, happiness and glory. Those people whose Jupiter is weak in the horoscope, under the influence of bad planets, sitting in a debilitated place should wear Haridra Mala on Thursday. Haridra Mala is also used to defeat enemies. By wearing Haridra Mala by the mantras of Maa Baglamukhi, wearing it around the neck, there is never any fear of the enemy in life. To remove the pain of Navagrahas, immerse Haridra Mala in raw milk and offer it on Navagraha Yantra on Sundays. Chant the mantras of Navagraha. This removes the pain.