Basant Panchami 2022 date and time
Basant Panchami 2022 is celebrate on the every fifth day of Shukla Paksha of Magha month in February. From this day, the spring season begins in India. Saraswati Puja is also perform on this day. Basant Panchami worshiped starts from after sunrise and before the middle part of the day. This time is also called the forenoon.
If Panchami Tithi is starting after the middle of the day, then in such a situation the worship of Vasant Panchami will be perform on the next day. However, this puja will be perform on the next day only if the date starts not earlier than the middle of the first day; That is, the Panchami date should not be in the forenoon. In all other circumstances, the worship will be perform on the first day itself. For this reason, sometimes Basant Panchami also falls on Chaturthi Tithi according to the Panchang.
According to mythological beliefs, there is also a law to worship Goddess Rati and Lord Kamadeva on this day.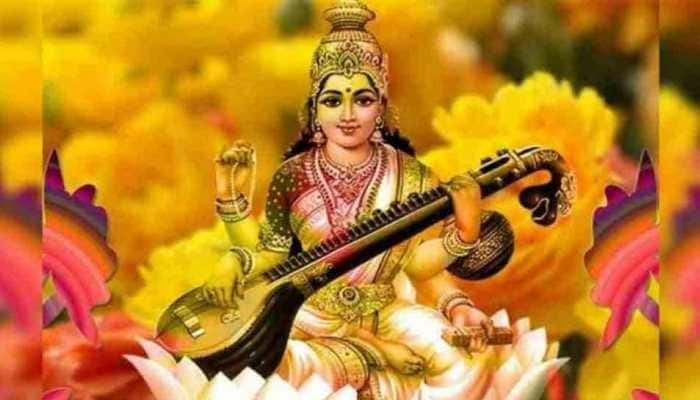 Basant Panchami Shodashopachara Puja Resolution

Vishnuः Vishnuः Vishnuः, Adya brahmano vyāsah paradhe rvetavarahkalpe jambudwipe bharatvarshe,
Amukanamsamvatsare maghashuklapanchamayam amukavasare amukagotrah amukanamamah saklapap – by decay – sruti –
Smrutukhil – virtuous fruit, good fortune – good health, undisturbed – work – rati – tendencyless mother
Patyo/Wives lifelong – Navanavanuragai Rati – Kama couplet Shodashopcharai: Pujayishye.
If on the day of Basant Panchami, if the husband and wife worship Lord Kamadeva and Goddess Rati, then there will be immense happiness in their married life and the relationship becomes strong.
Meditation of Rati and Cupid

Om Varne Madanam Baan – Pashankushsharasanaan.
Dharayantam Japaraktam Dhyayedrakta – Vibhushanam.
Savyen patimashlishya vamenotpal – dhariniam.
Panina Ramankasthan Ratim Samyag Vichintyet.
Sarasvati Puja

On this day, people associated with the field of literature, education, art etc. worship Sarasvati, the goddess of learning, according to the above mentioned Muhurta. If Sarasvati Stotra is read along with the worship of Goddess Sarasvati, then amazing results are obtain and the Goddess is Please.
Sri Panchami

The goddess of wealth 'Lakshmi' (also known as Shri) and Lord Vishnu are also worship on this day. Some people worship Goddess Lakshmi and Goddess Sarasvati together. Generally, people of business or business class worship Goddess Lakshmi. Reciting Shri Sukta along with worship of Lakshmi ji is consider very beneficial.
All the pujas give above should be perform by Panch opchar or Shodash opachar method
One thing that you always have to remember is that Panchami Tithi will be consider on the same day when it is forenoon; That is, it will start between sunrise and the middle of the day.